Recently, the platform has received feedback from some Android users that the mobile security software has risks when installing or using the Bixin APP.
Given that such false alert may exist for a while, if you confirm that you downloaded and installed the Bixin App through the official website of Bixin (https://bixin.im), you can refer to the following steps to complete the relevant settings and use it normally.
Case 1: Can't proceed when continue the installing
The interface of Huawei mobile phone shows: Malware / fraudulent app and cannot click to instal .

The interface of Xiaomi mobile phone shows: Installation is prohibited, there is no option to continue installation during installation.


If you encounter the above situation, please disconnect from the network and reopen the installation package, and then select continue installation to use it normally.
Case 2:After the Huawei phone disconnect network , the option to installing does not appear.
To resolve this, first disable the Enhanced Protection mode in the Huawei phone's App Guard, and then disconnect the network. This will enable the option to continue installing. Simply click on " INSTALL" to install the app.
To disable Enhanced Protection mode: Go to Settings > System & Updates > App Guard > Disable Enhanced Protection.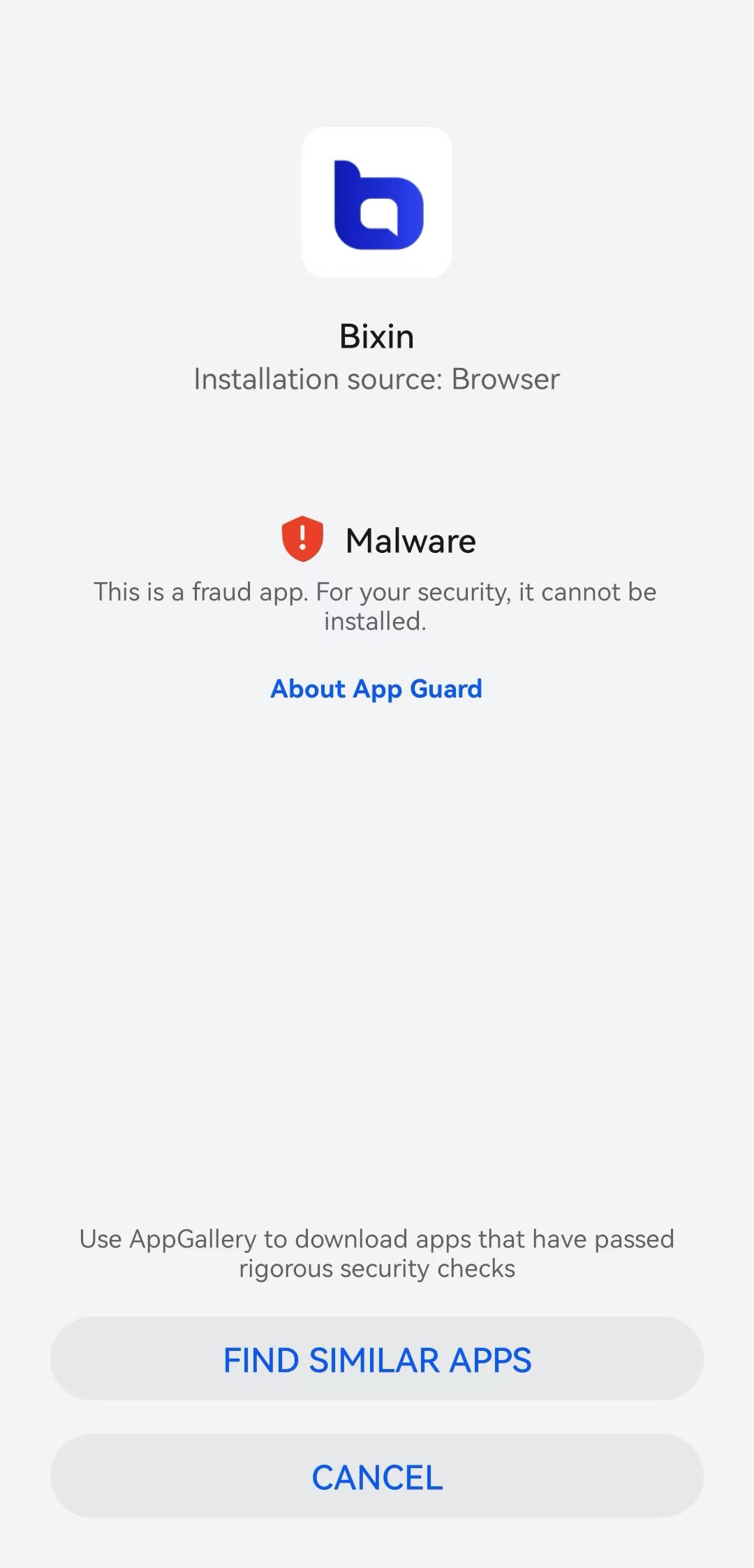 Case 3: Bixin is detected as risky APP, click to Don't remind me again - ignore.

Case 4: An exclamation mark appears in the lower right corner of the Bixin APP
If an exclamation mark appears in the lower right corner of the Bixin APP, open Optimizer , click Virus scan , click Bixin , and click to unerstrict.
If you encounter any problems during using the Bixin App, you can contact the customer service for consultation at any time. Reach out customer Support: Bixin App - Me - Official Customer Support.
Bixin official website: https://bixin.im

Thank you for your understanding and support.
Bixin team
March 1, 2022